Katherine Kellgren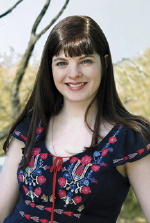 2011 Best Voice in YOUNG ADULT & FANTASY: Bloody Jack series
Katherine Kellgren remains one of our favorite, most dynamic voices. Is it because of her no-holds-barred portrayals of the irrepressible Jacky Faber (and motley company) in adventures like THE WAKE OF THE LORELEI LEE and THE MARK OF THE GOLDEN DRAGON? Her aptitude with accents? For the last couple of books she's worked with a dialect coach. "As Jacky's adventures lead her farther afield, the accents get more and more complicated," Kellgren tells us. Maybe it's her lovely singing voice? Many of the Bloody Jack books feature traditional sea chanteys and ballads--all in a day's work for a skilled narrator. "Some of them are sung by men or whole choruses of prim schoolgirls or drunken Scotsmen," Kellgren says. At one point, she went to a singing coach and asked him to help her sing in a key that could sound like a drunken Scotsman. "He said it was one of the weirdest things he'd ever been asked to do." Or maybe the real secret of her appeal is the pleasure she so obviously takes in telling, and sharing, a good story. "Audio encouraged me to develop a love of reading and literature," Kellgren tells us. "By being a narrator, I've gone on all sorts of adventures I never thought I'd go on. It's such a wonderful job--I feel so blessed to be able to do it."--2011 Best Voice in YOUNG ADULT & FANTASY

2010 Best Voice in CHILDREN & FAMILY LISTENING: ALCHEMY AND MEGGY SWANN, THE INCORRIGIBLE CHILDREN OF ASHTON PLACE, THE RED PYRAMID
2009 Best Voice in YOUNG ADULT: ANOTHER FAUST, CURSE OF THE BLUE TATTO, IN THE BELLY OF THE BLOODHOUND, MISSISSIPPI JACK
2008 Best Voice in CHILDREN & FAMILY LISTENING: Curse of the Blue Tattoo , The Case of the Bizarre Bouquets
The first time Katherine Kellgren narrated an audiobook, it was a book she made for her father. "He had Parkinson's disease, which affected his ability to read, and he'd been a great reader. There was a particular mystery writer he loved, Freeman Wills Crofts." She asked him to choose a Crofts novel he liked, which she then recorded on cassette for him, editing it herself using the rewind button.
About her first professional narrating job, she confesses, "I got it as a fluke because the woman who was scheduled to do it dropped out at the last minute." She remembers auditioning over the phone for the producer, who was stuck in a blizzard. She read from OUT OF AFRICA, and she got the job. In a mere six years since then, Kellgren has recorded well over 100 audiobooks and won four Audie Awards, three ALA Odyssey Honors, eight AudioFile Earphones Awards . . . and the list of honors goes on.
Born in New York City, Kellgren always enjoyed performing and has always been an avid audio listener. Early favorites include Caedmon recordings of John Gielgud, Dame Edith Evans, and Ralph Richardson, a collection of records she bought with her pocket money from a street vendor who sold them off a blanket. "Listening to audiobooks when you're a child is very helpful for literacy," she says. "I know it helped me fall in love with reading."
Kellgren lived in London for 12 years, studying acting at the London Academy of Music and Dramatic Arts, where she had speech and dialect training. "I wanted technical training that would work on my voice. So many of the actors I admired were wonderful with their voices--people like Gielgud and Evans, whom I grew up just idolizing. I wanted to be able to use my voice properly as an actor."
Among Kellgren's award-winning characterizations is that of the indomitable Jacky Faber, a creation of novelist L.A. Meyer. The Bloody Jack series, about an eighteenth-century young Englishwoman who takes to the high seas, calls for an enormous amount of research. Meyer and Annetje, his wife, are particularly helpful in tracking down the tunes Kellgren sings in the books--authentic sea chanteys and ballads from centuries gone by. Along with the challenge of singing them a cappella comes the added difficulty of singing them in character. "Some of them are sung by men or whole choruses of prim schoolgirls or drunken Scotsmen." At one point, Kellgren went to a singing coach and asked him to help her sing in a key that could sound like a drunken Scotsman. "He said it was one of the weirdest things he'd ever been asked to do." For the last couple of books she's worked with a dialect coach. "As Jacky's adventures lead her farther afield, the accents get more and more complicated."
Further preparation involves locating all the character voices that recur in the sequels and making a playlist for them in iTunes. Kellgren isolates the character voices using GarageBand and puts them into her iPod so she can refer to them when she's recording. Additionally, she goes through her script and color-codes all the various characters. "It takes a long time when I'm preparing any book, but the Jacky books take an awful lot of time."
Kellgren is currently re-listening to Alfred Molina's recording of TREASURE ISLAND. "I think it's my third time. And I'm also listening to PEACE, LOCOMOTION by Jacqueline Woodson, narrated by Dion Graham." She's about to record A RATHER CURIOUS ENGAGEMENT, by C.A. Belmond, and she's excited about narrating some Eudora Welty short stories. She's also slated to record another in the children's series Tales of the Frog Princess, by E.D. Baker. The new one's called DRAGON PRINCESS.
"Audio encouraged me to develop a love of reading and literature," Kellgren tells us. "By being a narrator, I've gone on all sorts of adventures I never thought I'd go on. It's such a wonderful job--I feel so blessed to be able to do it."--S.J. Henschel
Update
Katherine Kellgren is a marvel with accents. When she's narrating the adventures of Sherlock Holmes's young sister in THE CASE OF THE BIZARRE BOUQUETS, she mirrors Enola's skill at disguises: "She speaks the accent of a street urchin and turns a shopkeeper's posh accent to Cockney in a tirade." And when she's relating the seafaring excitement of Mary "Jacky" Faber's life in the Royal Navy, she believably inhabits officers, sailors, and ship's boys alike. "Kellgren has us convinced of Mary's gutsy nature, and we're not a bit surprised when, at 13, she takes to the high seas, hiding her female identity on a Navy ship, becoming 'brave Jacky.'" L.A. Meyer, author of the Bloody Jack series, finds Katy's narration to be spot-on. "I hadn't realized how difficult this is until I had to do a reading," he says. "I found the accent incredibly difficult to read aloud, so when I heard Kellgren's reading, I was enthralled." This year's CURSE OF THE BLUE TATTOO is the second in the series and finds Jacky in the dangerous waters of an elite Boston school for young ladies. Katy Kellgren's energy and dedication make this series can't-miss listening--she is definitely a narrator to keep an ear out for.
Photo © Jo Anna Perrin