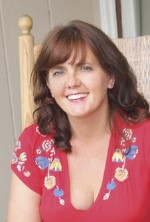 2011 Best Voice in NONFICTION & CULTURE: The Program
2010 Best Voice in Fiction: BRAVA, VALENTINE , JULIET
2009 Best Voice in FICTION & CLASSICS: THE SCHOOL OF ESSENTIAL INGREDIENTS
Cassandra Campbell -- What makes a good audiobook narrator? According to Cassandra Campbell, "Simplicity, honesty, clarity, and the ability to listen to the book. A good audiobook narrator is somebody who can get out of the way and let the story be the primary thing." In narrating nonfiction and personal growth titles such as Kelly Traver's THE PROGRAM and the forthcoming follow-up, THE HEALTHIEST YOU, Campbell uses those skills to deliver serious material while still sounding sound inviting, leading listeners through an informed discussion of the core principles of lasting behavioral change. Her mature-sounding tone and understated authority work well with these cutting-edge guides to developing better health habits. Campbell, who narrates fiction and children's and young adult titles as well as nonfiction, knows that another key to being a good narrator is versatility. "Every book demands something different from you," she says. "You just hope that what you do works." And when you're very lucky, a book speaks back to you. We awarded Earphones for Campbell's performance of the 2009 title, HALF THE SKY. "It's a complex nonfiction book about the treatment of women around the globe and what we can do to be more active, to help to change the face of that. Working on it was a very moving experience." - 2011 Best Voice in NONFICTION & CULTURE
Cassandra Campbell has always loved reading aloud. When she was in elementary school, she made her brother and sisters listen to her read JAMES AND THE GIANT PEACH and Grimm's fairy tales. Even so, she started doing audiobooks "sort of by accident." She was doing commercial voice-overs when a friend recommended her to Books on Tape. "As an avid reader all my life, it was not a huge transition. The process felt really comfortable for me."
Since then, Campbell has narrated more than 100 audiobooks and has directed nearly twice that many. When she first began recording, she says, "Audiobooks were kind of a cottage industry, but now, even with the struggling economy, audiobooks have taken off." What makes a good audiobook narrator? "Simplicity, honesty, clarity, and the ability to listen to the book. A good audiobook narrator is somebody who can get out of the way and let the story be the primary thing." She just worked on DARK PLACES, a novel by Gillian Flynn, which she both directed and, in part, narrated. "That was a big journey for me." As a director, she tries to be a collaborator, to listen and guide the reader. "The best directors I work with don't impose anything or try to be in charge. It's an intimate collaboration."
Campbell's narration of THE SCHOOL OF ESSENTIAL INGREDIENTS by Erica Bauermeister won her an AudioFile Earphones Award. "What I took away from recording it was that food can be formative and healing, empowering and calming," she says. And how does she feel about receiving an Earphones Award? "To be totally honest, it's a big, huge sigh of relief." She explains, "It's really nice to have that recognition. Every book demands something different from you. You just hope that what you do works. An Earphones Award is an affirmation." With her youthful, energetic voice, Campbell is also a popular choice to narrate YA and children's titles. She won Earphones for LUCKY BREAKS , by Susan Patron, and does a series for Random House called The Beacon Street Girls, by Annie Bryant. "They're five high school girls from Boston, and I've spent more time with those girls in the last year than I've spent with most of my friends."
Campbell has several other audiobook projects in the works, including directing WEAPONS OF MASS SEDUCTION, by Lori Bryant-Woolridge, which is "kind of a sexy little book." And she's particularly excited about an important book she just recorded, HALF THE SKY: TURNING OPPRESSION INTO OPPORTUNITY FOR WOMEN, written by two Pulitzer Prize winners, Nicholas Kristof and his wife, Sheryl WuDunn. "It's a complex nonfiction book about the treatment of women around the globe and what we can do to be more active, to help to change the face of that. Working on it was a very moving experience."--S.J. Henschel
About audiobook narrating, Cassandra Campbell says, "I love the opportunity to tell a story. As an actor, it's really being part of a tradition that goes all the way back to the Homeric epic." For Cassandra, finding the author's voice, cadences, and rhythms are the first challenges she faces when preparing to narrate. She's learned "to listen internally to the book" before speaking it out loud. "And then, after that, it's so much fun." She found recording Earphones winner A YEAR IN THE WORLD by Frances Mayes extremely challenging "because it's loaded with pronunciations from Spain, Portugal, North Africa, Turkey, Greece, and France. One page was a whole list of Portuguese bean soups!" She's also recorded INSIDE THE MIND OF GIDEON RAYBURN by Sarah Miller, HAPPINESS SOLD SEPARATELY by Lolly Winston, and Fannie Flagg's CAN'T WAIT TO GET TO HEAVEN , which she tells us, "was really fun and charming. She's a wonderful writer." Cassandra says, "Audiobooks have become the center of my focus as a performer." She both narrates and directs for Books on Tape and Random House and is currently at work on a sequel to Adriana Trigiani's Stone Gap series, HOME TO BIG STONE GAP .