We turn our lens on love for these five new romance audiobooks that feature characters—celebrities, reality TV contestants, professional photographers, and more—both in front of and behind the camera.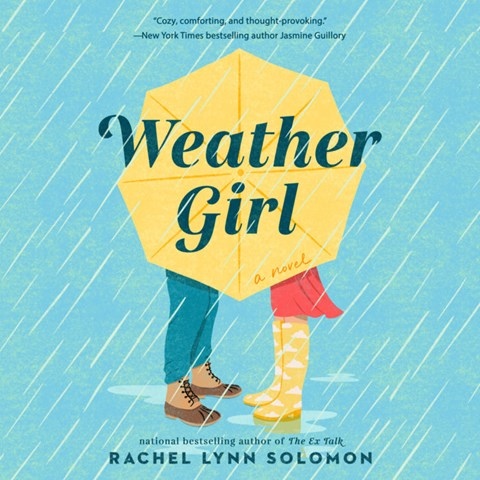 For a window into the weather report, there's WEATHER GIRL by Rachel Lynn Solomon, read by Sarah Mollo-Christensen. Ari is a TV meteorologist who needs more mentorship from her boss, Torrance. She teams up with sports reporter Russell to help Torrance with her love life, but ends up with a romance of her own. Mollo-Christensen has a husky voice with higher tones. Her ability to use stillness to create small moments within the audiobook is nearly magical, just like Ari and Russell's romance.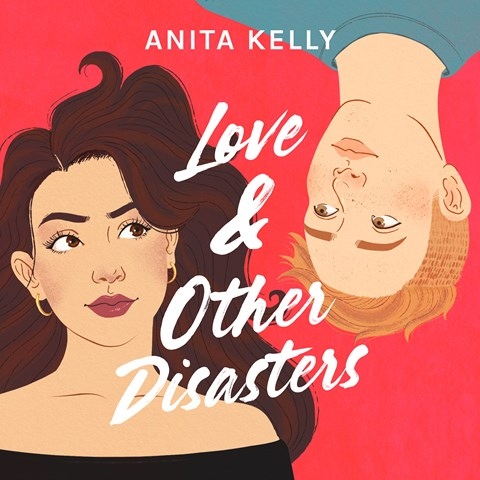 For another TV romance, try LOVE & OTHER DISASTERS by Anita Kelly, read by Lindsey Dorcus. Facing divorce and bankruptcy, Dahlia hopes her participation on the Chef's Special reality cooking show will be a turning point, but she doesn't get off to a great start. Meeting the show's first openly nonbinary contestant, London Parker, Dahlia embarks on a steamy relationship with them that involves on- and off-camera adventures. Dorcus gives a smooth performance that plays up both London and Dahlia's dialogue as well as their escapades. Dorcus's brisk reading matches the whirlwind on-camera romance.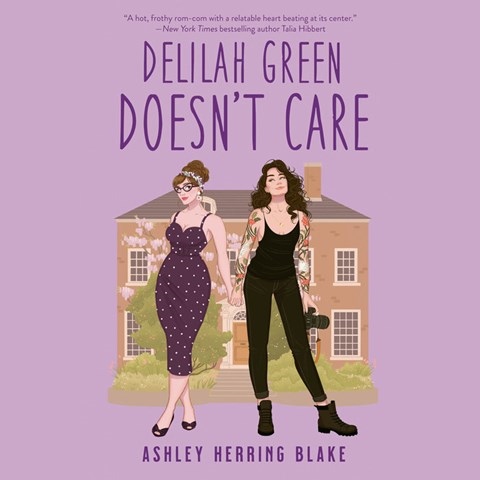 Moving to photography, here are two fun audios, both of which feature photographers forced by circumstances to return to their hometowns. In DELILAH GREEN DOESN'T CARE by Ashley Herring Blake and read by Kristen DiMercurio, photographer Delilah Green reluctantly agrees to photograph her sister Astrid's New York state wedding, mostly for the money. While there, she reconnects with Astrid's friend Claire. Although Delilah's usual modus operandi involves a lot of short term relationships, things may change as she gets to know Claire and her 11-year-old daughter. DiMercurio handles Delilah's interior monologues just right with a wry humor that meanders into Delilah's thoughtful moments. Under Delilah's snark, DiMercurio reveals a pure, heartfelt quality that will keep listeners rooting for Delilah.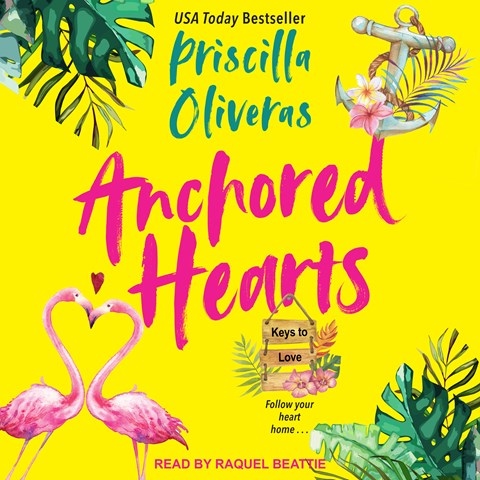 Narrator Raquel Beattie reads Priscilla Oliveras's ANCHORED HEARTS, a second-chance-at-romance story. Photographer Alejandro Miranda returns home to Key West, Florida, to recover from an injury, bringing him back into the sphere of his old girlfriend, Anamaria Navarro, whose family responsibilities prevented her from joining him on his globe-trotting photography career. Beattie switches from Spanish to English fluidly, and her voice holds a lovely edge of sadness as Anamaria accepts her current life as a paramedic and personal trainer while wondering … what if?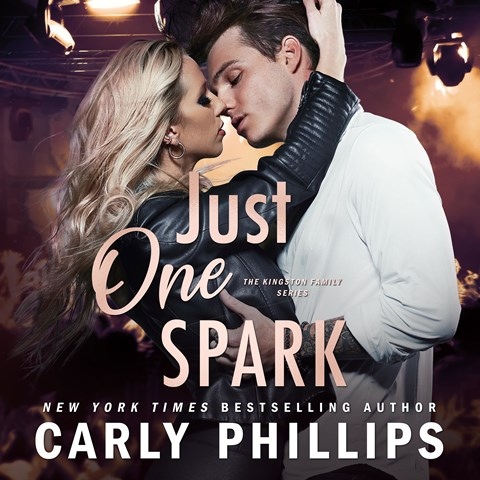 No list about behind-the-camera titles would be complete without a celebrity romance, and JUST ONE SPARK by Carly Phillips, read by Mackenzie Cartwright and Connor Crais, fits the bill. Dash Kingston is a bad-boy band member who needs to upgrade his public image, fast. And of course the solution is a fake girlfriend! Cassidy Forrester will do nicely, if only their feelings don't get in the way. Crais gives a brisk reading, matching the fast-paced life of a performer, even as he slows when Dash focuses on his feelings for Cassidy. Cartwright matches Crais's pace nicely and uses her vocal range to achieve realistic male and female voices.