Almarie Guerra is one half of the narration team that brings MISS METEOR to life on audio. Almarie and Kyla Garcia portray estranged best friends Lita and Chicky. They find their way back to each other when Chicky decides to help Lita enter their small-town beauty pageant. In this video, Almarie tells listeners what she loved about co-narrating this magical audiobook (and don't we all need a magical listen right now?).
"I just recommend it to absolutely everyone—definitely high school kids for sure, but also any adult who wants to remember what that time was like."—Narrator Almarie Guerra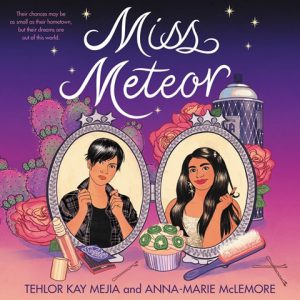 MISS METEOR
by Tehlor Kay Mejia and Anna-Marie McLemore, read by Kyla Garcia and Almarie Guerra
Harper Audio
Two narrators bring a well of energy to the humorous shenanigans two teens get into in this vibrant and wonderfully executed audiobook for teen listeners. Almarie Guerra's youthful, bubbly voice highlights Lita's quirks, and narrator Kyla Garcia brings a lot of gumption and perseverance to Chicky as she begins to open up about her identity and rebuild relationships while turning the eccentric Lita into a beauty queen.
Find more of Almarie Guerra's audiobooks in her audiography.