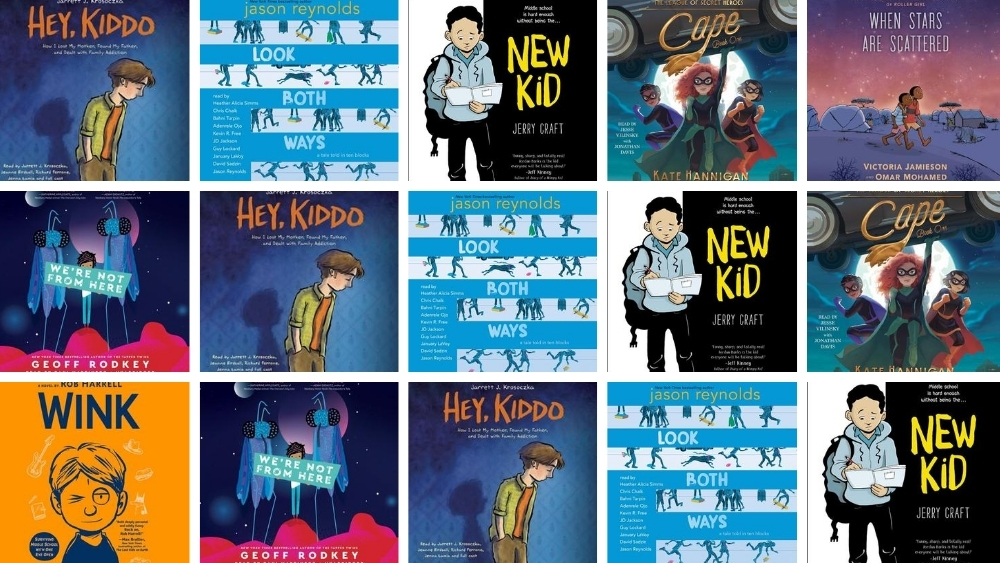 Lots of people loved NEW KID, the graphic novel written and illustrated by Jerry Craft. It was the first graphic novel to win the Newbery Medal. One thing that makes the audiobook so special is the full cast and scene-setting sound effects that really bring the illustrations to life and make listeners feel like they are experiencing a movie. If you are looking for more immersive audiobooks about friendship and family for ages 8 and up, here are a few of my recommendations.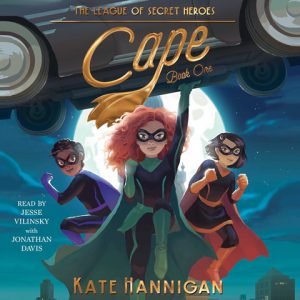 CAPE
by Kate Hannigan, read by Jesse Vilinsky, Jonathan Davis
Simon & Schuster Audio, Ages 8+ 
Part World War II historical fiction, part superhero fantasy graphic novel, three superhero fans suddenly develop their own remarkable superhero powers and join the League of Secret Heroes. Jesse Vilinsky brings honest emotion to the girls' narrative; her voice shudders with frustration at the racism, sexism, and bullying the girls face. Interspersed is Jonathan Davis's comic book narration, which believably transports listeners into the superhero action sequences.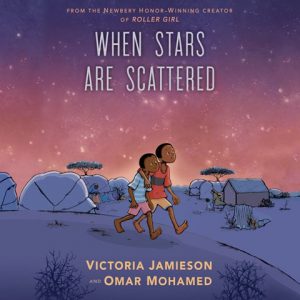 WHEN STARS ARE SCATTERED
by Victoria Jamieson, Omar Mohamed, read by Faysal Ahmed, Barkhad Abdi, Robin Miles, Ifrah Mansour, Bahni Turpin, Hakeemshady Mohamed, Sadeeq Ali, Dominic Hoffman, Christine Avila, JD Jackson, Dion Graham, and a Full Cast
Listening Library, Ages 8+
Earphones Award Winner
Skillful soundscaping and a full cast heighten the atmosphere and emotion in this audiobook, inspired by the childhood of coauthor Omar Mohamed, when he was a Somali boy living in a Kenyan refugee camp. Ambient noises and sound effects—from boisterous classroom chatter to evening cricket song—further envelop listeners. Collectively, it's a moving and memorable listening experience.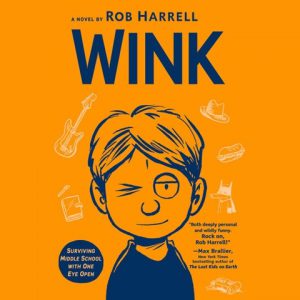 WINK
by Rob Harrell, read by Michael Crouch, Marc Thompson
Listening Library, Ages 10+
Michael Crouch's first-person narration is spot-on as Ross endures treatment for eye cancer, plus the normal awkwardness and humiliation that come with seventh grade. Especially wonderful are the illustrated interludes of Ross's alter ego, Batpig. The comic panels from the text are performed as radio plays, with Marc Thompson providing an exaggerated announcer voice and silly voices for Batpig's adversaries.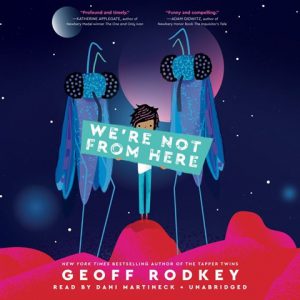 WE'RE NOT FROM HERE
by Geoff Rodkey, read by Dani Martineck
Listening Library, Ages 10+
Earphones Award Winner
Narrator Dani Martineck hilariously voices a multitude of extraterrestrial characters in this Odyssey Honor-winning sci-fi romp. After the destruction of Earth, the surviving humans seek refuge on the planet Choom and try desperately to fit in with the unwelcoming natives. Through screeches, moans, and chitters, as well as various distinct "voice signatures," Martineck gives listeners a vivid sense of what it might feel like to be a stranger in an alien land.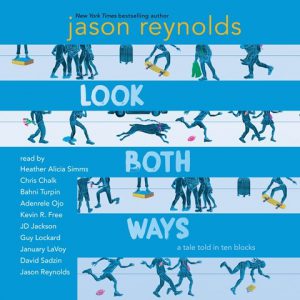 LOOK BOTH WAYS: A Tale Told in Ten Blocks
by Jason Reynolds, read by Heather Alicia Simms, Chris Chalk, Bahni Turpin, Adenrele Ojo, Kevin R. Free, JD Jackson, Guy Lockard, January LaVoy, David Sadzin, Jason Reynolds
Simon & Schuster Audio, Ages 10+
Earphones Award Winner
Ten African-American narrators read these ten interconnected stories, and their performances are uniformly excellent, bringing the cast of characters to vivid life. Author Reynolds's vibrant language, delivered by the narrator ensemble with style, makes every situation and detail—whether funny, outlandish, sad, or tender—feel genuine, relatable, and full of heart.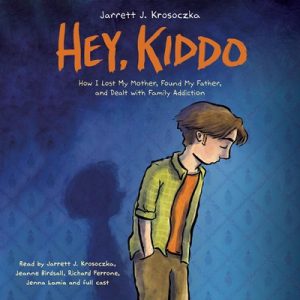 HEY, KIDDO
by Jarrett J. Krosoczka, read by Jarrett J. Krosoczka, Jeanne Birdsall, Richard Ferrone, Jenna Lamia, and a Full Cast
Scholastic Audiobooks, Ages 14+
AudioFile Earphones Award
A full cast of more than 40 performers brings this powerful graphic memoir vividly to life. With music, sound effects, and affecting performances, the audiobook makes listeners feel like they are at the dinner table with young Jarrett and his hard-drinking, foul-mouthed grandparents in Worcester, Massachusetts. As co-producer and co-director, Krosoczka has created a uniquely personal audiobook, casting family and friends in the production, making every interaction incredibly authentic.