Talking with Bill Minutaglio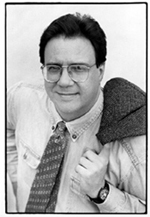 Q: I just finished listening to Molly Ivins's SHRUB, and there's quite a difference between her approach to George W. Bush and yours.
A: Molly's a friend of mine and works down the hallway from me. I admire all that she does, and she keeps people on their toes down here. We both knew we were working on projects about George W. Bush, and we had by unspoken mutual agreement decided not to talk about it. I was writing a full-dress biography, and she was doing a critical biography of his accomplishments—as only she can do.
Q: The word that caught my attention in your author's foreword was "evenhanded."
A: I was interested in showing the milieu George W. Bush grew up in, something that was inherently fascinating to me, and maybe to other folks. Having to walk in this long shadow left by his father and grandfather and great-grandfather. This is a very powerful and storied family in American history. I wanted to make my book a portrait of power and how someone who is an heir to all this power contends with the legacy of his family and the dynastic aspects of it all—as opposed to an acute examination of his policies as governor. I wanted to be evenhanded—I didn't start out to torch him, or to praise him. But simply to lay out the history of his life and let people decide for themselves how they felt about it.
Q: You interviewed more than 300 people for your book, and I'm interested in how their voices affected the tone and language of your writing.
A: That's a good question that nobody's ever asked me before. It reminds me that as I began that process of interviewing people, I felt I was stumbling upon a language that I didn't know and hadn't been privy to before. I firmly believe that the Bushes have their own language. And I've talked to other people about that, people who have traveled and worked with the family. There are clearly code words and code phrases and bits of language that the Bushes use, to get a point across, and to codify relationships. There's a term that they use, "a good man," which I first took at face value, meaning that he's a nice person. But as I began to look and listen more closely, that phrase kept coming up; and it means someone who is exceedingly loyal, a friend of the Bush house, a soldier, an ally, someone who can be trusted.
Bush has a famous mantra, "message discipline." What I think this means is that George W. Bush is going to deliver the same speech over and over again. A lot of people faulted him this primary year for staying too disciplined and not being more extemporaneous; he seemed overly scripted. And I've heard there's a debate in the Bush camp because he's not that way; he's very quick and spontaneous. His abilities include being engaging and charming and quick-witted and gregarious, and using language in a quick and funny way—he's a lot like his mother in that regard—more effective in a small group, with a handful of people.
Q: Your voice sounds so effective on your author's introduction, I wondered why you didn't record the whole book yourself.
A: I regret not having done it. And it really wasn't for any reason except that I was busy finishing the book and preparing for a book tour that took a month, and all that was going on at the same time the audiobook was being prepared. But if I had it to do over again, I'd probably put in my two cents' worth.
The reader they settled on, Roscoe Born, has a bit of Texas warmth and Texas accent in his voice, and I like that. I don't think they wanted someone whose accent is so extreme that it's like something out of "Hee-Haw." Because that's not indicative of how most people speak down here, and it's a false stereotype. I had tried in my book to hit it down the middle, and let people judge this man for themselves. And I remember thinking in the studio, working on the author's note, what a challenge that was for Mr. Born, too, to go down the middle. You don't want to reflect any biases or express any biases.
Q: What kind of audiobooks do you listen to yourself?
A: I used to commute regularly from the city of Austin to the city of Dallas, and it's a good hike, a three-to-four-hour drive, and I grew into the habit of listening to books on tape—Mario Puzo, Elmore Leonard. Mr. Puzo took possession of my book before it was published and offered a blurb. And in fact, my last familiarity with him was listening to some of his books on tape, on these back roads of Texas, these long, lonely roads.
I remember sitting in my living room and unpacking the box that Random House sent me that contained both the audiocassette and CD, and I have these speakers on the wall and a very high ceiling. And when I put these on, and my voice came booming out of the wall—it was very exciting and thrilling.
Q: One final question: What sort of listening would you suggest for today's voter?
A: I think people are craving a newer and fresher way, a way of getting a peek at the political process, certainly beyond the rhetoric as it's issued from most campaigns. People want to hear things, but they don't want to hear things that are already stale. I think they're looking for something spontaneous, even if it only sounds so.—David Walton

AUG/SEP 00
Photo © Ave Bonar