Talking with Calvin Trillin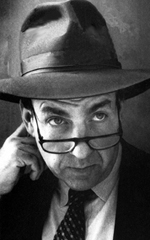 Audiobook fanatics are often forced to choose between authenticity and excellence. Do they prefer a writer/reader or a talented actor? With Calvin Trillin as narrator, they can have their cake and eat it, too. Or rather, their fish brain soup, since Trillin is a gourmand. Or their duck tongues. "I hadn't even realized that ducks had tongues," admits Trillin, in a voice that finds humor in every straight line.
Plus, Trillin cares about the audiobook. He often listens to books himself. Driving to Nova Scotia for summer vacation when his girls were small, Trillin and his wife, Alice, would put a tape recorder in the back seat of the car and play a book. As a lover of the form, he makes certain that his own offerings are well prepared and presented. If an abridgment needs to be done, he'll do it himself, thank you. Or not allow it to be done at all. "I have carefully burnished a reputation in the trade as a temperamental nut who will go crazy and perhaps do mass murder if a word is changed without my permission," he told AudioFile recently. "I'm actually a very pleasant fellow. In reality, a pleasure to be around, if I were to sum myself up," he said, turning straight man on a dime.
Trillin is certainly a pleasure to listen to. TALES FROM THE TUMMY TRILOGY, his most recent audio production, is a compendium of short essays culled from thirty years of writing about his search for a good meal. "Not the place you took your parents on their 25th wedding anniversary; the place you went the night you came home after 13 months in Korea." Each of 17 selections was gone over carefully by the writer and, if necessary, edited for the production. "Some things that are okay on the page really don't work when read," he explains. Traveling across the country for THE NEW YORKER, Trillin grew to dread "La Maison de la Casa House, Continental Cuisine," his generic title for an establishment that offers three paragraphs on the origins and preparation of the trout entrée, "a description lacking only the information that before the poor beast went through that process it has been frozen for eight and a half months."
This is a serious matter for a man who has admitted that "when helicopters were snatching people from the grounds at the American embassy compound, during the panic of the final Vietcong push into Saigon, I was sitting in front of the television set shouting, " 'Get the chefs! Get the chefs!' "
Trillin's glee at the discovery of a satisfactory meal is nicely balanced with the horror expressed at bad or tasteless food, for instance the balsa wood rolls served on airplanes. "I'm not saying it was the airline's fault that on a trip from Chicago to La Guardia I put the tiny cup of salad dressing in my coffee and put the tiny cup of cream on my salad. That was absentmindedness. But the fact that I hadn't noticed the difference until tipped off by a software drummer sitting next to me: that was the airline's fault."
Audiobooks, like meals, can be entirely satisfying, or not. Trillin's noted "an enormous difference in the quality of the readings. John Le Carré, I think, is brilliant. He does all the accents. Some writers have their books read by various actors, and a couple of times, Alice and I will just turn to each other and say, 'God, this isn't very good, is it?'" He once headed off for a workout, got miles from nowhere, and found that the audiobook he'd chosen had two broken cassettes. He was furious, or that's what he said, although I can't imagine that there wasn't also a rueful smile in his reaction.
Still, Trillin's experience with audiobooks has been largely positive, he says. One particularly difficult nine-hour ride on rough roads in India was made bearable by an excellent reading of a Patricia Cornwall book. He bought a ten-dollar Walkman. He and Alice broke the earphones apart so that each of them had one, and as the scenery flew by, so did the story. When they arrived at their destination, they gave the unit to the driver, who was enormously pleased.
The idea that listening to a book is somehow inferior to reading it is "petty snobbery," according to Trillin. "You're often in a car or exercising, when listening to a book," he said. "It's not instead of, but in addition to."—Benjamin Cheever
FEB/MAR 01
© AudioFile 2001, Portland, Maine