Talking with Dan Rather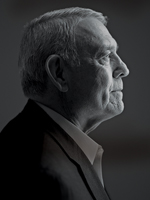 The voice is recognizable as a voice from our home or office, which for most of all our lives Dan Rather has been--a steady, trusted presence during the significant events of our time. Reached by telephone in his Dallas hotel room between crowded book signings, Rather sounds much like he sounds in Rather Outspoken: amiable, forthright, always a perfect gentleman.
Looking back on more than six decades of news reporting, he turns now to a new role. Here he tells his own story--from ad-libbing the news on Houston radio to reporting and anchoring for CBS and beyond. "What I wanted to do with this book--first, I wanted to be a good storyteller. Often when I'm with my family and friends, sitting around the fireplace, talking, at the shank of the evening, they'll ask what was it like when . . ."
Rather personally observed many of the watershed experiences of the nation: the Civil Rights movement in the '50s and '60s, the Kennedy Assassination, the War in Vietnam, Watergate, the bombing of the World Trade Center--whose first trails of smoke Rather spotted from his apartment windows.
"I tell stories when I'm at ease. And so what I wanted to do with this book is put those stories between hard covers."
When Rather first spoke with his publisher, he told them he definitely wanted to do the audio version. "They set it up, and it's by far the best professional experience I've had. First, John McElroy [producer and director] and Tommy Harron [engineer] were very careful about being precise--they insisted, with my complete approval, that it wasn't good enough to have almost the right word; it had to be the exact word that was in the book.
"I'm a Texan by birth, and sometimes when I'd get a little tired, I'd do what Texans often do--drop 'g's.' 'Mornin' instead of 'morning.' Sometimes an 'e' would come out an 'i.' For example, instead of saying 'ten,' I'd slip into the language of my youth and say 'tin.' It impressed me that they never let it get through, never a single time they didn't say: 'You need to do that over.'"
His own favorite audiobook? It's a full-cast production of Homer's ODYSSEY he's heard many times with his grandson, who can now "quote extraordinarily long passages."
Is there anywhere Dan Rather hasn't been, anyone he would like to have met, and hasn't?
"I've interviewed every president since Harry Truman, and I wish I'd interviewed Truman. I was alive. I was born in 1931--and I was alive during his presidency. And even while I was in college here in Texas in the early '50s, I thought several times of hitchhiking to Missouri to meet him, but I never got to it, and I regret it."
A central theme in Rather Outspoken is the importance of truth and telling the truth--a personal and professional creed Rather has had reason to assert many times in his career. Its subtext is the increasing pressure from corporate owners and sponsors to suppress uncomfortable truths and control news reporting--what Rather calls the "corporatization, politicization, and trivialization of the news.
"Over the years, what I call the ethos of CBS News--the news being a public service [upheld by founding CBS Chairman William Paley]--began to be seriously eroded when the company was sold, first to the Tish interests and then to Westinghouse and after that to Viacom. With each succeeding sale to a larger corporation, the erosion of the wall between the News Division and the corporate entity began to be more and more dramatic. Not unlike the separation of church and state--that's really how Paley thought of it."
A further distinction greets Dan Rather, having turned 80. This has become the year of the octogenarian in publishing, as a procession of esteemed authors has produced signature works in their 80s: David McCullough, Robert Massie, Robert Caro, among others. Dan Rather joins this prodigious company, as he has so many others, with ease, assurance, and few regrets.
"I'm at peace and happy," he says, "and doing the best work of my career."--David A. Walton
AUG/SEP 12
© AudioFile 2012, Portland, Maine

Photo © Greg Heisler