Talking with Ed McBain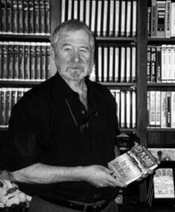 Ed McBain is a man who knows no rest. With more than 80 novels to his name—50 that have been adapted to audio-book—he continues to put in a full day's work despite having recently completed his latest book, Candyland, co-written with another award-winning author, Evan Hunter. What makes this collaboration unique is that Ed McBain and Evan Hunter are the same person.
New York native Hunter broke into fiction writing in the early 1950s, leaping into literary prominence with his 1954 novel, The Blackboard Jungle. With his 1956 novel, Cop-Hater—which introduced Detective Steve Carella and the "87th Precinct" murder squad—Hunter began penning his crime fiction under the pseudonym "Ed McBain."
AudioFile caught up with McBain/Hunter shortly after the hardcover and audiobook publication of his fiftieth "87th Precinct" novel, The Last Dance. We met at his Connecticut countryside home. He led us into a comfortable bookshelf-lined room. "We call it a library, but there are no books here." One wall displays shelves of videotaped interviews, television specials, and movies based on McBain's work. The opposite wall is dedicated to audiobooks.
As one AudioFile reviewer wrote, McBain "is not only one of the top detective fiction writers in America today, but one of the best author/narrators, as well" (AF April/May '99), McBain has performed four of his books for the audiobook medium, NOCTURNE, THE LAST BEST HOPE, THE BIG, BAD CITY, and THE LAST DANCE. The review went on to say that McBain's "authentic sound makes his technique seem invisible."
"Invisible?" Mc-Bain repeated. "That's what it should be, isn't it? If you're the narrator of a book, you want to disappear. This is my theory of writing in general. Whenever I read a review that says this is stylistically impeccable, I think, run for the hills. I don't want to read a book to get the author's style. I want the writer to disappear. I want the words to transport me someplace.
"Sometimes when I'm writing," he said, "I really do feel like I'm eavesdropping on a scene. It's playing out before me while I'm writing it. I'm seeing it and hearing it, and these people don't know I'm there. So when I read it back onto the tape, it's as if I've been there already."
Storytelling, both as an author and as a performer, takes McBain back to parenthood. Narrating an audiobook, he said, should be "as if you're reading it to your children at night, reading them a bedtime story. I had a lot of practice with that." He smiled as he recalled telling bedtime stories to his three sons and stepdaughter. "It's nice to have a captive audience. They can't get out of bed. They have to listen to you. I used to enjoy it, and it sent them to bed satisfied."
Many authors dislike having their work abridged, and some have even refused to allow abridgments. "That's absurd," McBain told us. "It's not recognizing that there are different mediums. An abridgment can be a good abridgment, and you don't have to have every precious word in it that you wrote. That's awfully silly. That's like saying there shouldn't be movies made of my books. You know, a movie doesn't have all the words in it, either."
But producing a satisfying abridgment is a considerable task. "It's a difficult job, especially in the 87th Precinct novels, where there are so many plots running. You have to lose some of the subplots and weigh which subplots would be more easily missed. Once you make a choice, you have to watch it to make sure that all the plot lines are followed, that all the threads are there." McBain likens removing a subplot to performing an appendectomy. "You have to go through it very carefully and excise the whole plot line, and if there are any places where the plots cross, you get into trouble."
After being a featured guest on various Internet chats, McBain was recently the guest on the Mediabay/Celebritybay Webchat. "It was fun. That was the first time I've chatted when there was real audio. The other times I had to type in answers. And that was a little clumsy. You had to wait for the conversation to catch up. But it was fun doing it live. I'm more comfortable interviewing on radio, and that seemed like radio."
In addition to his popular 87th Precinct series, McBain has written 13 novels about Florida attorney Matthew Hope, beginning with GOLDILOCKS (1978) and wrapping up the series with THE LAST BEST HOPE (1998). "I think the Matthew Hope books tend to be easier for whoever's narrating. The plots are not as tangled; the characters are not big-city types; there aren't as many dialects to do. In the 87th Precinct, you'll have a Pakistani, a Puerto Rican, and an Irishman, a whole range of ethnic groups with regional dialects and accents." But those dialects haven't stopped McBain from giving a great performance. With luck we'll be seeing the McBain-Hunter collaboration, Candyland, sometime later this year. But the question remains: Who will narrate—Evan Hunter or Ed McBain? —Steve Steinbock
AUG/SEP 00
Photo © Steven Steinbock