Talking with John Green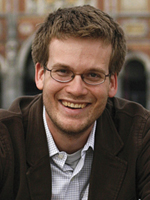 John Green, winner of the 2006 Michael L. Printz Award for his debut novel, LOOKING FOR ALASKA, chats about recording a limited, private edition of his newest book, THE FAULT IN OUR STARS, and about audiobooks and teen reading.
Green is a prodigious audiobook listener--in fact, he confesses that he's sometimes walked into people on the street because he was so engaged in an audiobook.
It's no surprise, then, that Green sees listening to audiobooks as a legitimate way to read, detailing some advantages as well as some drawbacks. "When you listen to an audiobook, you don't have sovereignty over what you're reading. You don't choose how to scan the page. On the other hand, you don't have the option to skip things. You can't get a third of the way through a long paragraph and decide to go to the next indent."
He also believes that sometimes an audio reading experience is better than a print reading experience; he uses WILL GRAYSON, WILL GRAYSON (written with David Levithan) as an example of an audiobook he calls "objectively better" than the print novel. "It's a 'performative' novel--the way we wrote it was to read it out loud to each other. It had its birth in listening and reading out loud, so it's the perfect audiobook. Of course, there's also the incredible work of the narrators."
All of Green's books have been recorded, and he's signed many audiobooks for teen fans. "It's interesting because kids have a relationship with the narrator as well as with me. They talk about voices in a different way; they hear the voices very distinctly and tell me which are good and which didn't sound right. It's always fun to have these conversations."
Green talks about recording THE FAULT IN OUR STARS for the fans who really wanted to hear HIM reading it. "I was amazed they were willing to do two versions because, after all, publishers are in the business of making money, and they won't make a dime from this. I think audio publishers are forced to embrace innovation because format and delivery keep changing. The medium is getting very fuzzy; there aren't really hard edges between audio and music and text, and I appreciate when someone is doing cool and interesting things."
Green is pleased with the selection of Kate Rudd as narrator for the other version of THE FAULT IN OUR STARS. "Her Midwestern accent is just right, and her perfect phrasing captures that weird sense of insecurity that comes with being sick without playing it up."
Because Green is so closely connected to his fan base, he committed to personally signing the entire first printing of that book. To make the time pass while doing all that signing, he listened to some classics that he'd never gotten around to reading: THE ADVENTURES OF AUGIE MARCH, by Saul Bellow; THE MILL ON THE FLOSS, by George Eliot; and DAVID COPPERFIELD, by Charles Dickens. He also listened to E. Lockhart's THE BOYFRIEND LIST. He enjoys listening to YA novels, but he's also a fan of mysteries and listens to Janet Evanovich, Michael Connelly, and Sara Paretsky.
About teen reading in general and summer reading in particular, Green has some definite thoughts: "It's important to get kids to read. The culture of the book has changed. It was way cooler to read hot new literary fiction when I was in high school. Teenagers need to be called to read well and thoughtfully because books are in the business of doing things that movies and television can't do. The great excitement of reading as a teen for me was the intellectual excitement of grappling with big ideas and with ambiguity. I wasn't good at it, but that's part of the pleasure of being a teenager.
"Audiobooks can really help kids get into books where they don't have the experience as readers. THE MILL ON THE FLOSS is a good example, even for an adult reader. The audiobook makes the encounter less intimidating. It engages the listener with the language, and I think it's a short jump to then engage with language visually."--Sharon Grover
APR/MAY 12
© AudioFile 2012, Portland, Maine

Photo © Ton Keone