Talking with Joel ben Izzy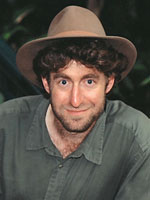 In 1997, renowned storyteller Joel ben Izzy was diagnosed with thyroid cancer. He was successfully treated, but the surgery left his vocal chords permanently damaged. Finding himself without a voice hit him especially hard because, after graduating from Stanford in 1983, he had crafted a successful career as an international storyteller, teaching and telling stories throughout Europe and in Asia. In 1992 his live recording Stories From Far Away won a Parents' Choice Gold Award and was chosen as an ALA Notable Recording. Four more recordings followed.
Then, in 2001, a new surgical process restored his voice, and his sixth recording, LIGHTS & LAUGHTER, was published. Now he recounts his rise as a storyteller and the year and a half he was unable to speak in his first print book, THE BEGGAR KIND AND THE SECRET OF HAPPINESS, also on audio. When we spoke with ben Izzy, we found him to be a source not only of delightful stories but also of profound wisdom and insight.
"This might sound odd," he says, "but I think my strength as a storyteller is in my ability to listen. When we tell stories, we are shaping, sculpting silence. It's essential to take your time when you're telling a story, to let the characters breathe, let the details come to life." Ben Izzy says that the experience of listening to stories is more intimate than reading a printed book. "When listening, you get a kind of intimacy. When a story is spoken, the words go directly to the heart and soul and then settle into the rest of the body. In a written work, the words go through the filter of the brain, which is one step removed."
He continues, "My book is about voice, which doubles the stakes. There's something ironic about reading a book in which I lose my voice. What I finally figured out was to test each word again and again, each passage, each page, by reading it aloud to myself. Rather than edit with my eyes, I edit with my ears."
Until he wrote THE BEGGAR KING AND THE SECRET OF HAPPINESS, all of ben Izzy's recordings were of live performances. This time he found himself talking into a microphone in a sound booth. "The setting makes all the difference. The studio in Oakland was filthy and smelled and was just grungy." When he listened to the resulting recording, "it just sounded wrong. I asked advice from a friend, Jim Weiss, of Great Hall Productions. He said, 'Joel, why don't you come out here.' He has this beautiful studio in the woods. It was perfect."
Ben Izzy himself is an audiobook addict. "I won't drive without one. I'm never not listening to something. When I go to the library, I'll get five or six. I don't want to be without one even for the time it takes to go back to the library. I find myself almost evangelical about audiobooks. Right now I have WATER FOR ELEPHANTS by Sara Gruen in the car. It's a HighBridge title with two terrific narrators, David LeDoux and John Randolph Jones. To me the narrator makes all the difference. Another book I loved was THE SECRET LIFE OF BEES, and the narrator, Jenna Lamia, was perfect. I'm a huge fan of Harry Potter and Jim Dale. I loved THE LOVELY BONES and THE TIME TRAVELER'S WIFE. I'm also always listening to programs by The Teaching Company."
Ben Izzy's year and a half without a voice gave him ample time to listen. Story lovers everywhere are now the beneficiaries of the return of his voice, and his secret of happiness.--Steven E. Steinbock
OCT/NOV 07
© AudioFile 2007, Portland, Maine