Talking with John McPhee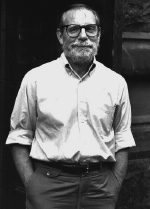 The next time I go camping, I want author John McPhee to go with me. Not for his knowledge of the natural world, which, admittedly, is immense. Rather, it's because, around the campfire, I cannot imagine a more engaging storyteller. He weaves hard scientific facts and figures into a tale that is so personal and engaging that one doesn't realize how much one is learning.
Add to that the fact that he is almost as good an oral presenter as he is a writer.
In THE FOUNDING FISH, McPhee tells a fish tale that is a whale of an interesting story. He writes about shad and fishing for them. But he also writes about pollution and the effort to clean American waterways. And about the researchers who provide the clinical, but by no means sterile, information about fish that is needed to assess the impact of environmental changes. And about the anglers who seek the challenge of landing the species. And about himself.
The book opens with McPhee fishing for shad in the Delaware River. He quickly makes the point that until the 1970s, such fishing would have been impossible because of pollution. He goes on to talk about the biology and history of the fish. The book ends with McPhee talking about the philosophy of fishing and the debate over catch-and-release. McPhee is squarely in the catch-and-eat camp of fishing.
McPhee is the reader of the Recorded Books unabridged version of his book, but he had to campaign to win the right to read. "I've done a lot of public readings," McPhee says from his Princeton, New Jersey, home. "I had recorded extended readings of my books for Random House Audio. Not abridgments, but whole long passages. But Recorded Books and Books on Tape didn't want me to do the reading. They usually don't let the authors read.
"Then I heard the author of COLD MOUNTAIN (Charles Frazier, Books on Tape) reading his work. It was great. So I said I wanted to read THE FOUNDING FISH, and Recorded Books said yes."
McPhee then proceeds to spin a tale about recording his book that is as interesting as his writing. "You're sitting in a booth in a studio with a glass window in front of you. It's just like "Frasier" on TV. You're looking at a director/engineer wearing earphones, who is looking at both you and a monitor that resembles an oscilloscope, or something like it, with wavy lines that are your voice. I had a wonderful time."
McPhee readily admits to being an avid audiobook listener and sometimes gets into debates with a writer-daughter who insists that listening to a book doesn't count as reading it. "It's amazing how much one can absorb listening to books in the car. When I turn on my car, the book is already in there. The voice comes on as soon as I turn the key. And it stays on until I turn the key off and the voice stops.
"And we're not talking just about long trips," he continues. "I only live four minutes from where I work (Princeton University). Yet I still can get through even a very long book, day by day."
McPhee, a Pulitzer Prize recipient, regularly writes for THE NEW YORKER. He currently is writing a series of pieces about freight transportation. But in his inimitable style, he focuses on the people, using their stories to tell the broader ones. In one essay, he rides with a transcontinental hauler from the East to Washington state.
When he completes the six essays, he'll weave them into book form.
And when the audio is produced, listeners can only hope he'll be spinning his tale on tape and CD again.—Richard C. Gotshall
OCT/ NOV 04
© AudioFile 2004, Portland, Maine

Photo © Nancy Crampton