Talking with Pete Dexter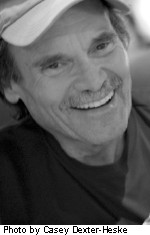 Pete Dexter just can't help himself. He collects stories, and then he tells them. And if he's not busy telling one of his own, he's probably listening to someone else's, plugged into a book on his iPod during daily workouts or the long road trips he often takes. "Well, I'm not in places where I collect stories so much these days--but once in a while I hear a good one, and it kills me to have no place to tell it."
That frustration really took hold about 10 years ago, when Dexter gave up the acclaimed newspaper column he'd been writing since the '70s. "I was not warned of the... problem, which, as far as I know, has no name and exists on the periphery somewhere as a feeling of full-udderness," he wrote in PAPER TRAILS, a 2007 collection of his nonfiction. "Full of juice and no place to shoot it."
For 25 or 30 years Dexter found no lack of homes for his prodigious output of stories. Besides two or three columns a week, he wrote seven novels (among them the National Book Award-winning PARIS TROUT and the forthcoming comic epic, SPOONER), countless magazine stories, and a steady stream of screenplays. But when all else failed, he turned, on occasion, to the outlet of last resort, and as a longtime friend and periodic colleague of Dexter's, I thus became the recipient of some of the greatest bleeping voice mails in the history of the medium: the account of his adventures in the adult diaper aisle of an Arizona drugstore, for instance. Or the tale of a newcomer to his Puget Sound island who lived alone, died in his bathtub, and was eaten by his dog. ("In the dog's defense, she'd only been with him for a month," Dexter would later write, "and it's easy to criticize from the sidelines when you're not hungry yourself.") I soon realized that what I was hearing in each case was a perfectly shaped comic narrative delivered out loud by a master storyteller--a little squirt from the overfull udder of Pete Dexter.
Although he tends eventually to commit his tales to the written record, his inveterate hunting and gathering of stories puts him squarely in the oral tradition: hear a story, cut and polish and stamp it as your own, then pass it along.
It also helps explain why he's a habitual listener of books, particularly the novels of Richard Russo and Philip Roth. "NOBODY'S FOOL was a great audiobook, as was STRAIGHT MAN," he says, "and after reading and then listening to most of Roth, I'm tempted to say the recorded versions are even more enjoyable."
Dexter's ear and aim have never been sharper than they are in SPOONER, the story of a confounding lifelong relationship between a man and his stepson, the title character, who bears a striking resemblance to the author. SPOONER is full of the perfectly wrought prose his admirers have come to expect from Dexter, but it is also brimming with the outrageous humor that has always been a hallmark of Dexter the journalist, and of the man himself.
"You know, everybody says my stuff is always so dark, and I didn't set out to change anyone's opinion. But I was trying--not consciously, maybe--to write a little lighter. At the same time, you don't want to sacrifice anything in the quality of the sentences. I was deadly serious about wanting every sentence, every paragraph, in SPOONER to be as well written as anything I ever wrote in a more 'serious' novel."
Laughing out loud all the way through SPOONER, one might be tempted to think it was actually fun to write. "Oh, it wasn't any fun, I can tell you that," Dexter says. "I've always shied away from the idea that writing is fun. But in the last year or so that I had with this book, I have to admit that I kind of looked forward to getting down to it every day. I've never been able to say that before."--Rob Fleder
OCT/NOV 09
© AudioFile 2009, Portland, Maine

Photo © Casey Dexter-Heske