William Kennedy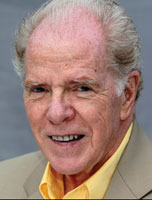 Albany, New York, native William Kennedy has received numerous literary awards, among them a National Endowment for the Arts Fellowship, a MacArthur Foundation Fellowship, and the 1983 Pulitzer Prize for his novel Ironweed.
Kennedy began his career as a journalist, first in upstate New York, and, after a brief stint with a newspaper in Puerto Rico, at the Miami Herald. "That was a great job. I had this assignment to cover everything that was Cuban. The revolution was on, Fidel was up in the hills, and I was in the thick of covering a really terrific bunch of stories. I was also trying to write a novel, and I came to the conclusion that if I didn't quit soon, I'd never get it done." So he quit.
Kennedy returned to Albany in 1963, and, although he'd quit journalism over and over again, he says, "I always had to come back to it and use it as a way of making a living." In the period of the mid-60s, the Civil Rights Movement was emerging, and Kennedy found it fascinating stuff. "It was a great time in my life to be a journalist. I wrote about the emergence of black voices in politics for the first time in this country, about the emergence of a new communal voice among black people."
CHANGO'S BEADS AND TWO-TONE SHOES, Kennedy's latest novel, revisits the period in 1957 when the author had the opportunity to spend time with and interview Fidel Castro. "I knew people who were close to Fidel, and I'd be in their house and he'd come by. It was a very unusual access to the man, and I felt I should somehow use it." He took a lot of notes during those visits. "I wasn't writing anything; I was just taking notes for history." But Kennedy always had it in his mind to do something with the material. "I also had ideas to write about the Civil Rights Movement, which was comparable. It was great subject matter, and I decided to put them together . . . a couple of revolutions . . . and make them relate to one another, which, of course, they did."
As for protagonist Daniel Quinn's encounters with Ernest Hemingway, Kennedy admits he reinvented Hemingway. "Naturally, you can't leave him out."
Kennedy says recording CHANGO'S BEADS was "great fun." It took about five days of hard work with engineer Charlie Eble. "Charlie is a great pro at what he does. He's also a jazz pianist, which is what one of the characters in my novel is. The novel has a jazz feeling to it, which is both intentional and inevitable when I write about people playing jazz. The prose has got to sing and keep that beat." Kennedy is gratified by the result, particularly since we gave him an AudioFile Earphones Award for his efforts.
Kennedy enjoys audiobooks. While he believes the deepest meaning of a book will probably result from reading and rereading the written page, he thinks a good narrator's voice can heighten the drama through "nuances of personality infused into the voice. I'm certain that some people who will not quite get the writing will get it clearly from a good reader." He's currently listening to Jackie Kennedy's tapes with Arthur Schlesinger, and he's just finished RUNNING IN THE FAMILY, written and read by Michael Ondaatje, and OSWALD'S TALE, written and read by Norman Mailer, with his wife, Norris Church.
Kennedy is currently working on a play he's been writing for years. At the moment, it's called The Light on Colonie Street. "I'll work till I get it right and then have a staged reading and see what happens next. It's about the Phelan family, but events that are new to their history, and me."
We can't wait.--S.J. Henschel
[FEBRUARY/MARCH 2012]
Photo by Judy Sanders