Week 3's free audiobooks offer several kinds of literary and performance experiences. SYNC participants can select one or two teen novels this week, both of which are grounded in a classic story. Thank you, ECW Press, for the full-cast selection WHEN MORNING COMES, which author Arushi Raina builds on the roots of the Romeo and Juliet story of ill-fated love. We're also grateful to Recorded Books for their contribution of the Pura Belpré Honor-winning NEVER LOOK BACK, a contemporary retelling of the Orpheus and Eurydice story with Afro-Latinx characters by Lilliam Rivera and performed by a pair of narrators.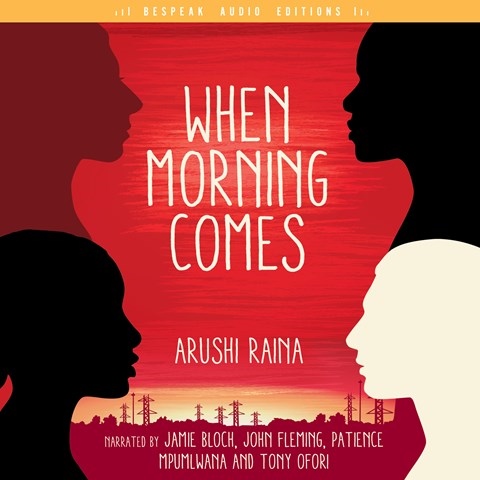 Many teens are familiar with the basics of Romeo and Juliet. Raina's version is set in 1976 Johannesburg, South Africa, during apartheid. Actor Patience Mpumlwana leads a cast including Jamie Bloch, John Fleming, and Tony Ofori, all of whom supply appropriate accents and cultural authenticity as the story joins these four high schoolers and the student uprising that developed in the Soweto township against state-mandated racial disparity. WHEN MORNING COMES offers romance, historically informed fiction, and the opportunity to hear how multiple narrators can work together to lift a tale from page to ear.
The Greek myth of Orpheus and Eurydice may be less familiar to some teen listeners. However, narrators Almarie Guerra as Eury and Samuel Maria Gomez as Pheus supply character personalities in their voices to keep all listeners on track through the plot twists and clear about the nuances of this romance. NEVER LOOK BACK demonstrates how familiarity with the old tale, and the transplanting of it to a different time and place, can prove respectful to both the richly imagined new telling and the underlying classical core.
Both WHEN MORNING COMES and NEVER LOOK BACK are available for you to move to your personal SYNC shelf between now and Wednesday night, May 18, at 11:59 pm Eastern Daylight Time. Like all 32 SYNC titles this summer, these two are available anywhere in the world. Once you have "borrowed" them in the Sora app, they are yours to keep on your personal Sora shelf.
Lilliam Rivera photo by Lilith Ferreira Las Fotos Project, Almarie Guerra photo by Stephany Girard Photography, Samuel Maria Gomez photo by Jeffrey Mosier.