Talking with James Patterson & Edoardo Ballerini
At this year's BookExpo America conference, we had a chance to sit down with author James Patterson and narrator Edoardo Ballerini and talk audiobooks. This is an excerpt of our conversation; the full interview is available on YouTube, and the AudioFile blog.
AudioFile: When did you first get interested in audiobooks?
James Patterson: You know what, for me, when I moved out of New York City and started driving my car all the time, that's when I became addicted to audiobooks. And I do not get in my car without putting an audiobook in now. Right now it's ASTROPHYSICS FOR PEOPLE IN A HURRY, which I don't understand a word of, but I'm listening anyway.
Edoardo Ballerini: That's the value of a good narrator: Even if you don't know what you're listening to, you keep going.
AF: And what about you, Edoardo?
EB: I came to audiobooks after many years in film and television, which I still do, when somebody approached me to do a recording of Machiavelli's THE PRINCE because I speak Italian, and I said, "Sure." And then from there it just sort of took off, and now I find myself also listening, especially at night when I'm too tired to hold a book and actually read it. I can lie back in bed and dim the lights and listen to something.
AF: And Jim, what about the first time you heard one of your own books: Do you remember which one it was?
JP: I don't remember what I had for breakfast. No, I don't remember which one. I listened to BLACK BOOK, and I thought it was terrific because I love the book. A lot of them I don't listen to on audio. I mean, I've already been through them 10 times at that stage. One of the things about listening to them, though, is you do get a good feel for when your dialogue stinks, you really do. You go, "You know what, that just is bad, that's bad." So what I want to do from now on is, with the manuscript, I want you to read it, and then I'll know what to fix.
EB: We'll drive around; it'll be like you have a live audiobook happening in your car.
JP: Yeah, that's right; yeah, perfect.
AF: And what about you, Edoardo, do you remember the first James Patterson audiobook you narrated?
EB: It must have been the NYPD Red series, which we've done, I believe, four of now . . .
JP: Wait a minute, we've only done three.
EB: Oh, okay.
JP: You've done one I haven't even written yet. Yeah, there are four, there are four.
EB: I secretly wrote a fourth one . . .
JP: Excellent.
EB: Because I felt I knew the characters so well at this point.
JP: Yeah, probably.
AF: Pacing is so important in your books, in the way you write but also in the way you narrate. How do you set a tone, first as a writer, because you have a sense of where you want to leave people at the end of each chapter, but then as the narrator following that?
JP: Well, Michael Connelly, bestselling mystery writer, said, "What Jim does is every single chapter moves both the characterization and the plot forward and turns on the movie projector in our heads." And whether I succeed or don't succeed, I'm always trying to do that. I want people to see the scene; I want them to feel that they're there. I think audiobooks can be quintuple what they are now in terms of popularity, and I think the productions could be a lot richer. So one of the things we might try to do with the book with President Clinton [THE PRESIDENT IS DEAD, due to release June 2018] is really go for the kind of production that I don't think anybody's done yet in an audiobook.
EB: I agree. I've often said, and I know it can be cost prohibitive unless you have bestsellers such as yours, but to have sound effects, to have all this kind of richness behind it, to make the production bigger would make the whole thing better. But I did want to say something about pacing, to your question, and also I guess, to what Michael Connelly said about the visual nature of your books, which I find to be very true. I often feel like I'm watching a movie when I'm reading these books. Everything comes so alive, and I can really see the clothes and the buildings and the cars. The pacing is so dictated by the writer that I feel like it's there waiting for me to follow. If you have a lot of staccato short sentences, that's going to suggest something; if you have these long sort of flowing sentences, that's going to tell you what the author wants in terms of pace. I've always believed that the narrator is in service to the author, that it's my job to present the book as the author intended it. And so I look for these clues, I look for the kind of sentence structure, I look for the kind of characterizations, and I try to follow that.
JP: Would you mind going out to Hollywood and explaining that to all of the scriptwriters, the show writers, the actors?
EB: Here's what we're going to do: We're going to get in a car, we're going to drive, I'm going to read your next few books aloud to you so you can hear them . . .
JP: On the way to L.A., yes . . .
EB: We're going to get to Hollywood, we're going to set up some meetings, and we're finally going to make something happen out there.
AUGUST/SEPTEMBER 2017
© AudioFile 2017, Portland, Maine
Talking with James Patterson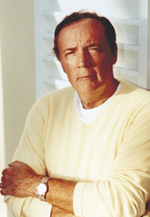 James Patterson populates his books with terrorists, serial killers, and ruthless criminal masterminds. In contrast to the grisly content of his bestselling novels, Patterson turned out to be a pleasant, easygoing man when AudioFile caught up with him during his four-month, thirty-city tour. "I'm addicted to audiobooks, and every time I get in the car now, that's all I do. I'm a huge, huge fan," said Patterson, whose novels top the audiobook sales charts. "It's a really exciting form. In particular for people who spend a lot of time driving or jogging, it's the best. I converted about three years ago." Up until that point, Patterson had led the hectic life of a city dweller. "I had no time. I didn't want to think about audiobooks. Then I moved to the country. I spend a lot more time in the car. Now every time I get in the car, in goes the audiobook, even if it's a ten-minute trip."
We asked him about his choices for listening. "All the books that I used to buy, and I wind up not reading," he answered. "For years I had David McCullough's TRUMAN, and every time I reached for it, I'd ask myself, a thousand pages? Do I really want to know that much about Truman? I do more nonfiction on the audios than fiction. I'll listen to anything—from TITAN, Ron Chernow's BIOGRAPHY OF JOHN D. ROCKEFELLER, to a Tom Clancy novel. I might pick a book I'm curious about, but I might not read the whole thing. I might be curious, but not necessarily 7-8 hours worth of reading curious."
Does Patterson listen to his own books? "I already know the stories pretty well," he told us. "But I do find sometimes that listening to them shows me places I could have done a little better." Before his nationwide tour to promote ROSES ARE RED, Patterson received an audiobook copy of that book. "I thought it was a good idea to get familiar with the story again. Sometimes people ask me questions, and I don't remember at that point. It had been a year and a half since I had finished the book."
Does the author approve of abridgments? "I love them. Just about everything I 'read' is abridged. I think they're great. For me, unabridged is a little too much. They do a nice job of condensing the story. Yet four to six hours is still a lot. Imagine sitting through a four-to six-hour movie." Two of Patterson's thrillers—KISS THE GIRLS and ALONG CAME A SPIDER, both featuring detective Alex Cross—have been adapted as movies starring Morgan Freeman. Other adaptations have included the made-for-TV movies "Child of darkness, Child of Light" (based on CRALE AND ALL) and "Miracle on the 17th Green" with Robert Urich and Meredith Baxter. We asked Patterson to compare his experiences with audiobook and film studios. "It's very different. With audiobooks, they really try their best to be faithful. And they certainly are in close contact with you. They give you the script before they record it. You can have as much input as you want, the only limitation being the length. Whereas with Hollywood, there's little or no [author] input, and they're going to change it a lot. They don't often have a lot of respect for the original material."
One of the unique traits of Patterson's writing is his use of multiple viewpoints. Most of his 16 novels feature a pair of lead characters—often a man and a woman—working separately but in tandem to solve the plot, allowing the reader to see the story unfold from both perspectives. In KISS THE GIRLS he went so far as to have twin villains, mirroring each other's crime from opposite ends of the country. Audiobook producers have taken advantage of this by casting multiple readers in their productions. Robert Guillaume and Chris Noth read KISS THE GIRLS. Blair Underwood and John Rubinstein performed JACK AND JILL. Six of the twelve audiobooks currently offered by Time Warner Audio include multiple narrators.
What's on the horizon for Patterson's fans? He's just completed 1ST TO DIE, introducing four female protagonists: a district attorney, a journalist, a medical examiner, and a homicide detective. "They meet while they're involved in a huge case in San Francisco, and they go out for a drink and decide to start sharing information and trying to solve the case themselves." Not only did Patterson have to tackle the challenge of establishing and maintaining four heroines, but he also took on the additional challenge of a man writing in a female perspective. "I think I've succeeded. The feedback on this series has been great." Curious listeners can get a sneak peek at 1ST TO DIE with the preview tacked on to the end of CD and cassette versions of the abridged ROSES ARE RED audiobook.—Steven Steinbock
APR/MAY 01
© AudioFile 2001, Portland, Maine

Photo © Susan Solie Patterson